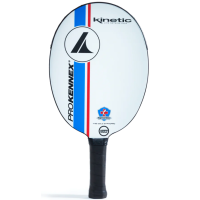 PROKENNEX PICKLEBALL: OVATION SPEED II SERIES
PROKENNEX PICKLEBALL: OVATION SPEED II SERIES
$160.00
The Ovation Speed II Series is created for players that demand the highest quality craftsmanship with unparalleled engineering and design in a powerful, lightning fast tip-speed, professional Pickleball paddle.

The Ovation Speed is the FIRST paddle to introduce a tennis-inspired oval form factor to the sport.
Proprietary 7-layer coating and complex composite, including specially treated soft skin with spin-grab feature and Prokennex Release epoxy/resin system makes this our top paddle for advanced players
The Ovation Speed Series is a brilliantly designed single-piece paddle with a graphite inlay, making it virtually indestructible.
Weight: 7.7-8.0 oz
Grip: 4"
Handle Length: 5"
Paddle Length: 15.43″
Paddle Width: 7.6″