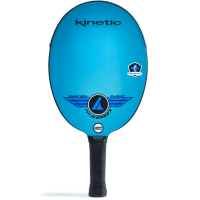 PROKENNEX PICKLEBALL: OVATION FLIGHT SERIES
PROKENNEX PICKLEBALL: OVATION FLIGHT SERIES
$180.00
The Ovation Flight Series is for players that demand the highest quality craftsmanship with unparalleled engineering and design in a lightweight, lightning fast high performance paddle
The Ovation flight is the most maneuverable paddle in the ProKennex line, making it the lightest and quickest reflex enhancing paddle available in Pickleball today. 
The Oval shape reduces corner weight allowing for faster paddle rotation. 
Proprietary 7-layer coating and complex composite, including specially treated soft skin with spin-grab feature and ProKennex Release epoxy/resin system makes this our most popular "all-style and levels" paddle.
The Ovation Flight is a brilliantly designed single-piece paddle with a graphite inlay, making it virtually indestructible.
Weight: 7.4 oz
Grip: 4"
Handle Length: 5"
Paddle Length: 15.43″
Paddle Width: 7.6″