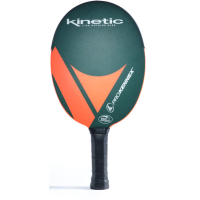 OVATION SPEED II ORANGE/FOREST GREEN PICKLEBALL PADDLE (2023)
OVATION SPEED II ORANGE/FOREST GREEN PICKLEBALL PADDLE (2023)
$179.95
The 2023 Ovation Speed II introduces a new colorway to the series and is the culmination of 4 years of engineering and manufacturing improvements resulting in paddle construction perfection.
The Ovation Speed II Series is created for players that demand the highest quality craftsmanship with unparalleled engineering and design in a powerful, lightning fast tip-speed, professional Pickleball paddle.

The Ovation Speed is the FIRST paddle to introduce a tennis-inspired oval form factor to the sport.
Proprietary 7-layer coating and complex composite, including specially treated soft skin with spin-grab feature and Prokennex Release epoxy/resin system makes this our top paddle for advanced players
The Ovation Speed Series is a brilliantly designed single-piece paddle with a graphite inlay, making it virtually indestructible.
Weight: 7.7-8.0 oz
Grip: 4"
Handle Length: 5"
Paddle Length: 15.43″
Paddle Width: 7.6″